Presentation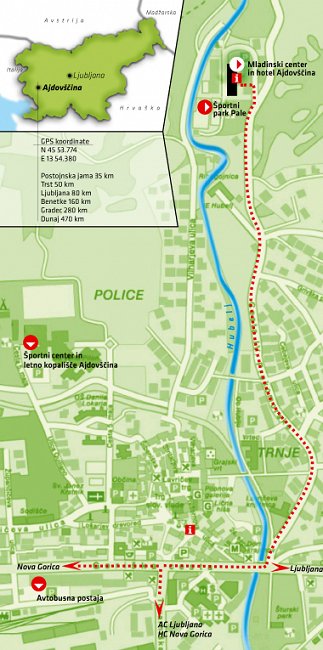 GPS coordinates
N 45 53.774
E 13 54.380
The Youth Hostel Ajdovščina
IV. Prekomorske Street 61 A
5270 Ajdovščina, SLOVENIA
www.hostel-ajdovscina.si

Telephone: +386 (0)5 368 93 83
Fax: + 386 (0)5) 368 93 84
Mobile phone: + 386 (0)41 945 392
House regulations
CHECK IN from 8:00 A.M. by 10:00 P.M.
On Saturday and Sunday between 1:00 P.M. and 10:00 P.M., guests are accepted by the restaurant staff, which is located on the other side of the building.
CHECK OUT from 8:00 A.M. by 11:00 A.M.
Upon your departure at Youth Hostel Ajdovščina, you pay for:
keys, bed linen, towels, bath mat
And you must: respect house rules, and
check out of the Youth Hostel by 11:00 A.M.
WORKING HOURS
The Reception:
Monday – Friday 8:00 A.M. – 8:00 P.M.
Saturday, Sunday 8:00 A.M. – 1:00 P.M.
Nighttime peace and quiet: 10:00 P.M. – 8:00 A.M.*
* For events organised by the Youth House programme, the hours of nighttime quiet are adjusted to the duration of the event. Thank you for your understanding.
RESPECT OTHER GUESTS AND HOSTEL`S PROPERTY
Respect other guests and treat them as you would want others to treat you. For the deliberately inflicted damage or any theft you will be billed in accordance with your actions.
SAFETY OF VALUABLES
Youth Hostel Ajdovščina is not responsible for any theft or loss of your personal belongings nor for their damage.
GENERAL AND PERSONAL SAFETY AND HYGIENE
Each guest is given free clean set of bed linen, towels and bath mat which he or she can replace for a clean set free of charge after 5 nights.
At the hostel's reception you will be given a pair of slippers which you should use while staying in your room.
The usage of the laundry room is charged extra.
Youth Hostel Ajdovščina guests clean their rooms, during their stay, themselves (vacuum or sweep, wipe the floor with a damp cloth, collect and hand in bed linen towels and bath mat).
We are not responsible for any injuries our guest might sustain.
Alcohol may be consumed only in the restaurant area of Youth Hostel Ajdovščina.
You are not allowed to store any food in your room.
Any drugs or weapons are strictly forbidden on the Youth Hostel Ajdovščina premises. If we find any, we are allowed to confiscate them and contact the police.
Please, take your room key with you at all times for identification purposes.
Visitors who are not hostel guests are allowed only the ground floor.
If you haven't checked in and paid for you stay, you are not allowed to spend the night at Youth Hostel Ajdovščina.
FIRE SAFETY
Fire regulations and fire exits are clearly marked. Make sure you know where fire extinguishers and fire alarms are located. Respect fire regulations and personnel's instructions.
Smoking is forbidden on the Youth Hostel Ajdovščina premises.
You are not allowed to use any electric or gas cookers, heaters and devices of such nature, which generate heat.
In case you intentionally set of the fire alarm when unnecessary or if the alarm goes off due to smoking or usage of any heating devices, you will be billed for fire intervention expenses.
WHO MAKES SURE THAT HOSTEL RULES ARE BEING FOLLOWED?
The hostel owner, manager, personnel and security have the right to check and see if guests are following hostel rules and regulations at anytime anywhere on the Ajdovščina Youth Hostel's premises without obtaining guest's permission in advance.
WHEN HOSTEL RULES ARE BROKEN, CONSEQUENCES FOLLOW.
If you don't follow these rules, previously stated persons can:
escort you off the premises and ban you from the hostel
temporarily seize your belongings
bill you for the caused damage and consequently lost income, and
call the police.
In case you need any further explanations, please turn to the hostel receptionist.